Living well is all about balance, and winter presents an opportunity to balance polar opposites in a way that fosters well-being and a sense of calm and peace, which is more vital than ever in this stressful era of COVID.
Hibernating in a warm, tidy home is the natural instinct we all follow in the season of cold and snow.
There's a salutary counterweight, however, that perfectly complements snuggling up indoors, and it provides benefits some might find surprising.
It's dressing warmly and going for winter walks that embrace the cold and turn it into a tonic for body, mind, and spirit.
The Power of Walking in the Woods, or in a Pretty Town
"If you're a person who's really stressed out and you go into a natural environment that is, for you, perceived as soothing and calming, that will automatically decrease your blood pressure, decrease your output of stress-related hormones, give you an increased feeling of calmness and well-being," Dr. Betsy Blazek-O'Neill told the Pittsburgh Post-Gazette in a recent story. "Over time, being exposed to those effects can have longer-term health benefits."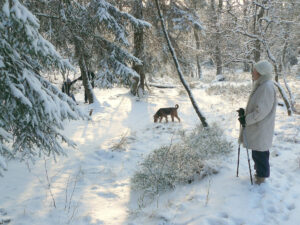 The story also explains that concerns about stress and anxiety inspired the Japanese to embrace a regimen of spending time in nature as a response to the technology boom of the 1980s. The practice is known as shinrin-yoku, widely translated as forest bathing.
A U.S. News & World Report story points to a recent study that investigated how forest bathing combined with mindfulness to potentially help with mental health, including stress related to the pandemic.
I work with clients and patients often on these issues in my role as The Tidy Lifestyle Doctor—combining KonMari Method tidying with my practice as a Chiropractor, Reflexologist, Reiki Master Practitioner, and Acupuncturist.
In fact, the principles of Reiki energy healing align perfectly with the goals and benefits of forest bathing, and those principles can elevate the experience if you think of them as a mantra while walking:
Just for today I will give
thanks for my many blessings.
Just for today I will not worry.
Just for today I will not be angry.
Just for today I will do my work honestly.
Just for today I will be
kind to my neighbor
and every living thing.
You'll find that your winter walks, in addition to providing vital health benefits, will increase your clarity and focus, as well encourage a sense of calm and well-being.
The challenge is where to walk in the winter, especially during this snowy February. Even that is easy to solve with a bit of positive energy and research.
There are so many great places to walk in Connecticut and many of the woodland trails are popular enough that even heavy snow is quickly packed down to make the trails easy to navigate.
At the White Memorial Conservation Center in Litchfield, for example, cross-country skiers typically create a channel through the snow by the day after a storm, making walking easy and pleasant. Handy trail maps are on the website.
The Farmington Canal Heritage Trail & Farmington River Trail are also great options. They're paved, wide, and used heavily enough that snow isn't usually an impediment.
For more options, Connecticut Magazine even has a column devoted to hiking in the state.
Your walking excursions don't have to be in the woods to reap the benefits. Connecticut has lovely town centers that offer exquisite walks. In fact, the officials state tourism site offers a directory of walkable town centers.
Make Sure Your Warm Interiors Are Tidy Sanctuaries
The next concern is the environment you'll return home to encounter after your walk.
In a blog post in March 2020, as everyone took refuge at home amid the outbreak of the pandemic, I asked, "Is your home a sanctuary?" A few weeks later, I shared another post describing what makes my own home a place that's soothing, not stressful.
Why stressful? Clutter is the one-word answer. Disorder and clutter in your home prevent living spaces from being  the sanctuaries you need to extend and enhance the positive benefits of walking.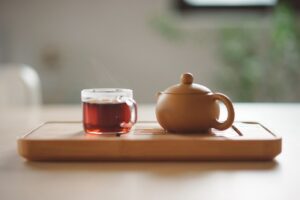 It's something you surely feel even if you don't articulate it directly. When you come home from a walk, or any other excursion, you want to relax with the comfort of a favorite ritual like tea, as I do, or perhaps coffee or a glass of wine and a good book.
The good vibes from your day out will begin to disappear if you're opening the door to a house overburdened with "stuff" like piled-up mail, stacks of old magazines, clothes strewn about, and a kitchen where you have to move messes out of the way to do anything.
The ongoing restrictions of COVID represent a call to action to begin or continue the process of comprehensively tidying and decluttering your sanctuary spaces using Marie Kondo's principles of KonMari.
Please feel free to contact me by phone at (203) 772-8883 or email me at christine@sageofinteriorsllc.com to discuss your specific journey of lifestyle improvement.
I'm available for virtual KonMari sessions, and have resumed in-home consulting that incorporates all the proper precautionary measures and social distancing. The details are on my Packages & Rates page.