Like many people, I have more than one professional pursuit. Now I'm combining them—at least informally— under one name, The Tidy Lifestyle Doctor, to offer a better sense of the full scope of my services.
I have been Dr. Christine Thorn, a Chiropractor, Reflexologist, Reiki Master Practitioner, and Acupuncturist, for 30 years.
In July 2020, I moved my office from Wolcott to the Southington office complex that's also home to Fyzical Therapy and Balance Centers of Connecticut. The move was covered by the Bristol Press and the Record-Journal of Meriden.
Since April 2018, I have been a Certified KonMari Consultant, sharing the benefits of Marie Kondo's KonMari Method of tidying and decluttering with clients across Connecticut as the Sage of Interiors.
I guide clients in a lifestyle enhancement journey centered on keeping things that nourish the soul and discarding the rest, with decisions informed by the fundamental question, Does this spark joy?
Over time, these complementary identities naturally become more unified, a process I explored in a blog post entitled "The Deeper Lifestyle Cleanse Behind KonMari Decluttering."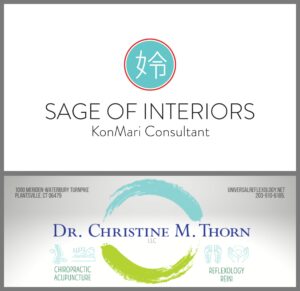 In both professional pursuits—with patients and with KonMari clients—I engage in deep, compassionate listening and respond with strategies and services that provide a sense of "healing" for the body, mind, and soul.
The balance tips toward physical healing in my chiropractic practice and lifestyle healing in my KonMari consulting.
I often end up having a relationship with both patients and clients that involves a journey of emotional discovery, in which I function as a lifestyle coach and shepherd them through lifestyle realignments, as well as body, mind, and spirit enhancements.
As a result, I'm introducing myself as The Tidy Lifestyle Doctor, an overarching title that includes both of my focus areas.
The benefits of that bigger picture are already offered as part of my existing packages and rates, which include:
Guidance with health and wellness issues, informed by my healthcare/natural therapy experience and practice
Strategic lifestyle coaching, with goal-setting and progress tracking
KonMari tidying and decluttering professional consulting
Living environment transformations
General lifestyle realignment
Compassionate engagement, deep listening, and constant inspiration
Perhaps the best thing about being The Tidy Lifestyle Doctor is flexibility it offers to those who choose to work with me. I tailor services specifically for your needs.
Email me at  [email protected] or give me a call at (203) 772-8883 to discuss what's misaligned in your home, your body, your mind, and your spirit and we'll determine an action plan.
Call me at 203-910-6185 for more information specifically about my healthcare practice.