Apparently there's a legion of folks who use KonMari-like principles to downsize in order to enjoy the "glamourous sexy side of van life," as in camper vans that serve as home away from home and allow the free-spirited to travel from one spectacular view to the next.
Decluttering your boat or sailboat is a mainstream practice for those who love life on the water, and, get this, there's a demographic among us that feels the need to declutter the wine cellar.
Bottom line: KonMari Method decluttering improves not only your home but any lifestyle and business surroundings. Backyard teahouse, English-style garden folly, "she-shed" … whatever the dimensions, design, and use, and however exotic it may seem to ordinary folks who'd love to just have a clean and tidy closet, tidying and decluttering is always the right solution.
My KonMari "hothouse" tidying challenge is a case in point.
I have been working with the owners of a botanical business on decluttering their home and recently the focus shifted to a freestanding office unit and work trailer that hitches to a truck, both located between two hothouses on the property.
The challenge was to tidy the workspace and office, as well as the trailer with all the gear in it—and a challenge it was.
The office unit was so overstuffed we couldn't open the door and initially had to climb in through the window as the door that had no key was unexpectedly locked.
We completely emptied that space, did all our Komono, (which involves the day-to-day items stored here, there and wherever) and essentially completely emptied the office space.
In the process of decluttering and tidying, we reorganized both the office and the work trailer, making each not only functional for the owners and employees but also clean and set up for ease of use in a way that will enhance the business.
If you wonder what that means, here's an example: when your work trailer is so cluttered you can't find the right shears you need to trim particular plants, the easiest solution is to stop at a garden center and buy a new pair—but when the ones you're looking for are hanging where they should be, you save time, frustration and money.
Working together we dispatched everything that wasn't necessary and kept the essentials—the same as with any KonMari process—and then found a spot where those essentials will always be located easily!
Disorganization became organization over the course of approximately six hours of determined work, and in the end, the office was an office and no longer an overstuffed shed, and the work trailer was optimally set up for crews to go out and efficiently do any job.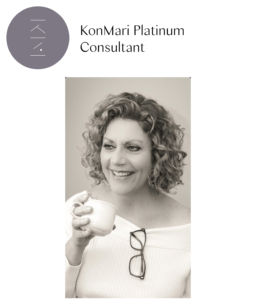 It was a gratifying project that had a bonus. As I was lugging all this heavy stuff around, like chainsaws (a novel experience in itself) the owners of the business would explain what tools were used with different plants and why.
And as we transitioned into and out of the greenhouses to put things in their proper places, I learned even more about plants, habitats, fertilizer, and more.
So even as a consultant, I am learning from my clients as they are learning from me.
Those seeking professional help with decluttering should feel free to email me at  [email protected], or call (203) 772-8883, to discuss your situation—or visit my Packages & Rates page.
Follow me on Facebook and on Instagram as the Sage of Interiors, as well as Dr. Christine Thorn on Facebook.