Christine Thorn's slideshow, her hands-on demonstration of Marie Kondo's folding techniques, and her interactive exploration of the power of guided mediation make her presentations throughout Connecticut very popular.
A Certified Silver KonMari Consultant, Thorn has new presentations scheduled at public libraries in March, April and May that will introduce guests to the life-changing magic of the KonMari Method of comprehensive tidying and decluttering. All programs are free and open to the public.
Thorn constantly updates her presentation, most recently by emphasizing how the energy healing of Reiki and KonMari share the important goal of creating balance in life.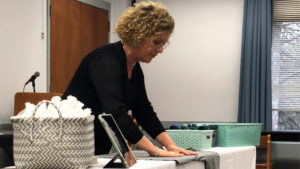 Nearly three decades of helping people with their body, mind, and spirit as a Chiropractor, Reflexologist, Reiki Master Practitioner, and Acupuncturist gives Thorn a deeply nuanced understanding of the concerns and goals of those who gravitate toward KonMari for its cleansing and liberating qualities.
"Clearing out mentally, clearing your house out physically, the result is the same—a lightness, clarity, honoring yourself, loving yourself and being more peaceful," she wrote in a recent blog post. "Most people are searching for balance that will allow them to feel better, happy, and worthy. It's from that perspective that the KonMari term 'spark joy' derives its fullest meaning."
March 4, St. Paul's Church Hall, Kensington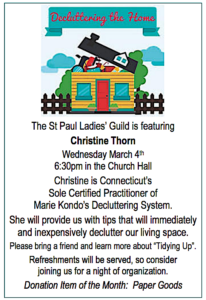 The Saint Paul Ladies Guild of Saint Paul Catholic Parish in Berlin will host Thorn for a 6:30 p.m. presentation on March 4, which is highlighted in the church bulletin. It will be held in the church hall at Saint Paul Catholic Parish in the Kensington section of town.
"She will provide us with tips that will immediately and inexpensively declutter our living space. Please bring a friend and learn more about 'Tidying Up,' the church bulleting says, noting that refreshments will be served, The phone number at the church is (860) 828-0331.
March 28, Wilson Branch, Windsor Public Library
NOTE: This presentation has been canceled. Check back and watch Facebook for updated information. 
"Does this spark joy? This is the ultimate question for anyone looking to declutter their home, life, and mind," says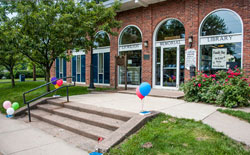 the library's listing for the Saturday, March 28, presentation beginning at 11 a.m. The library is located at 323 Broad St. in Windsor and the phone number is 860-285-1910.
April 5, Oliver Wolcott Library, Litchfield
NOTE: There has been a scheduling change for this presentation. Check back and watch Facebook for updated information. 
The presentation begins at 1 p.m. on Sunday, April 5, and guests may register online. The library, which consists of a historic home joined with a modern addition designed by famed architect Eliot Noyes, is located at 160 South Street, and may be reached at 860-567-8030. (The library is shown in the top photo.)
April 9, Plainville Public Library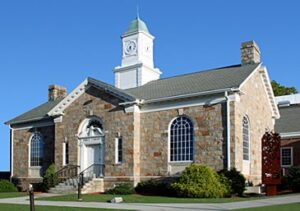 The Plainville Public Library invites guests to "learn how to organize the chaos in your life based on Marie Kondo's style in 'The Life-Changing Magic of Tidying Up.'" The presentation begins at 6 p.m. The library is located at 56 East Main St. in Plainville. For more information, call the library at 860-793-1446.
April 25, F. N. Manross Memorial Library, Bristol
"Are you curious about the life-changing benefits of this system of tidying?" the library asks in its event listing.

"Learn the importance of the fundamental question: Does this spark joy? Hear how to keep only those items which bring joy to your life by following this category-by-category system." The presentation begins at 2 p.m. at the library located at 260 Central Street in the Forestville section of Bristol. Those planning to attend may register online. Call the library at 860-584-7790 for more information.
May 6, Woodbridge Town Library
And May 9, Danbury Public Library
The May 9 presentation in Danbury has been moved to Nov. 7. Check back here and on the Sage of Interiors Facebook page for updates on the timing for all presentations.
May 14, Morris Public Library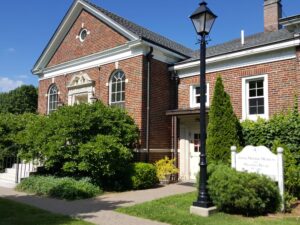 How to Organize Your Home the Marie Kondo Way is the title of the presentation at the Morris Public Library, on Thursday, May 14, at 6:30 p.m. Call the library at 860-567-7440 or register online. The library is located at 4 North Street in the center of Morris. Call 860-567-7440 for additional information.
About Christine Thorn & KonMari
Christine Thorn shares the benefits of the KonMari Method with clients across Connecticut through her venture Sage of Interiors, LLC.
Inspired by Kondo's best-selling book, "The Life-Changing Magic of Tidying Up," Thorn studied with Kondo and her team in New York City and became certified as a KonMari consultant. This past November, she was chosen by Kondo's team to serve on a panel for the KonMari Consultant Certification Courses in New York City.
Through the KonMari Method's category-by-category system of tidying, Thorn creates living spaces of comfort and serenity, guiding clients in a tidying journey toward keeping things that nourish the soul, while discarding the rest, which produces lasting results. At the heart of KonMari is the fundamental question about each object, Does this spark joy?
Thorn has been helping people with their body, mind, and spirit for 27 years as a Chiropractor, Reflexologist, Reiki Master Practitioner, and Acupuncturist. Her passion for helping others heal through their environment and home has grown to include creating a new look and feel within their living spaces—and that, in turn, helped launch her on her KonMari journey.
In addition to the sageofinteriorsllc.com website, you can find her on Facebook and Instagram@sageofinteriors. To discuss beginning a KonMari journey, see the Packages & Rates page, email her at [email protected], or call (203) 772-8883.