There's a noticeable change in the air, literally and figuratively. As the temperature heats up and the number of daylight hours increases, our minds naturally shift to being outside. With the windows open, the gentle breeze and sounds of nature bring a much needed shift in thought and focus.
Hopefully, with the extended time all of us have had at home amid the coronavirus, the inside of our homes are more organized and more comforting to encourage a positive sheltering in place experience, rather than adding to the stress.
Memorial Day Weekend means it's the time to shift our focus to outdoor living spaces, and I'd like to share how we can apply some of the very same "interior" KonMari principles to our exterior living environments.
Principle 1 —  Commit to Tidying Completely
What exactly does this mean with regard to the exterior of our homes?
Well, just like with the inside of our homes, it involves making a serious commitment of time and physical labor, as well as a financial commitment in some cases should you decide to hire someone to do part of this "tidying."
Principle 2 — Envision Your Ideal Lifestyle
It's time to be creative and see how you can extend your family's living space to the outdoors—especially if you don't already have a deck, patio, pool or other outdoor space.
Perhaps your at-home office can now be in a beautiful garden or surrounded by the sound of a soothing bubbling bird bath (my office).
Whatever it is, keep that image in your mind's eye when creating the space. Perhaps creating a vision board with pictures of spaces that spark joy will serve as an inspiration for your restful retreat.
Principle 3 — Discard First
Eliminate all things from your outdoor living space/yard that no longer bring you happiness or spark joy. This includes plantings, trees or external structures such as sheds or decking.
Principles 4 & 5 — Tidy By Category and in The Correct Order
The Konmari Method focuses on tidying by category, not location, and tidying in the correct order. When it comes to outdoor living spaces, attention is focused on the Komono (misc. items) and Sentimental categories because clothing, books and papers have hopefully been addressed inside your home.
Principe 6 —  "Does It Spark Joy?"
Always be guided by these simple yet powerful words when deciding what you are choosing to keep in your outdoor spaces.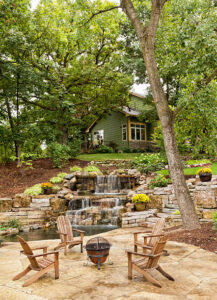 So, where to begin?
My suggestion is to sit quietly and imagine how wonderful the fresh air, sunshine and sounds of nature will feel to your body, mind and spirit. Jot down some ideas and thoughts that can serve as your inspiration in creating your ideal outside living space.
Next, go outside and literally look at the spaces you have available in various areas of your property. Look for plantings or trees that may need to removed or transplanted to a better location. Remember to ask yourself  throughout the process, "Does this spark joy?"
Having an overall budget in mind for any additions or removals will be important, but you don't have to spend money to spark joy. A good scrubbing and power washing of decks and patios is a great place to start with a clean slate.
Next up is to go through your outdoor items, which may be stored in our garages, basements, or sheds. This is where the Komono and the Sentimental categories come into play. Creating subcategories is most helpful. Examples of this are furniture, planting pots, lawn/garden décor, and lighting, to name a few.
Be very mindful of what you are choosing to keep, and be sure it's in good structural condition. Outdoor items only last a season or two if not properly cared for in between use. Once you've gone through all your outdoor Komono and Sentimental items and have chosen with joy what you want to keep, it's time to set up your carefree living space and take it outside.
~
As a Certified Silver KonMari Consultant and professional organizer, I work with clients across Connecticut and beyond to successfully achieve comprehensive, life-changing tidying that transforms homes and lifestyles. My Services page outlines the process, and my the Packages & Rates page describes how we work together.
My KonMari tidying sessions are now taking place virtually via Zoom during the coronavirus pandemic.
In addition, I give presentations on Marie Kondo and KonMari at venues including public libraries. At the moment, the presentations are also being done online. For news of upcoming events, watch the website blogs page.
Besides the website, you can find me on Facebook, Instagram, and YouTube.
To directly discuss beginning a virtual KonMari journey, email [email protected], or call (203) 772-8883.