The Hamden Public Library is hosting Certified Gold KonMari Consultant Christine Thorn for an online presentation June 16 about lifestyle enhancement achieved through the KonMari Method of tidying and decluttering pioneered by Marie Kondo.
The hour-long presentation begins at 6:30 p.m. and is free and open to the public. Registration is required and guests may register online.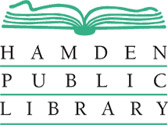 The event listing says:
In her slideshow, Thorn begins by discussing being inspired by Marie Kondo's best-selling book, "The Life-Changing Magic of Tidying Up," and then studying with Kondo's team in New York City to earn her certification as a consultant. She launched her consulting venture in April 2018 under the name Sage of Interiors.
In addition to detailing the life-changing benefits of KonMari's category-by-category system of tidying, Thorn explains how it focuses on keeping only those items which bring joy to your life, rather than on what needs to be eliminated, and discusses the importance of the fundamental KonMari question: Does this spark joy?
She also details the KonMari Method's six steps and how the process works, as well as showing examples of transformations achieved in clients' homes, and demonstrating proper KonMari folding techniques.
Thorn's presentations include answering guests' questions.
Thorn constantly updates her KonMari presentations by including such elements as folding demonstrations and emphasizing the importance of creating balance in life.
She also summons her wisdom from nearly three decades of helping people with their body, mind, and spirit as a Chiropractor, Reflexologist, Reiki Master Practitioner, and Acupuncturist. In her role as Dr. Christine Thorn, in July 2020 she moved her office from Wolcott to the Southington office complex that's also home to Fyzical Therapy and Balance Centers of Connecticut. The move was covered by the Bristol Press and the Record-Journal of Meriden.
In her role as a Certified KonMari Consultant, Thorn has been sharing the benefits of the KonMari Method of tidying and decluttering with clients across Connecticut through her Sage of Interiors venture since April 2018. Media coverage includes Scot Haney of CBS affiliate WFSB filming a segment at her house for the lifestyle show Better Connecticut.
Thorn's work as a health and wellness provider—specifically the energy healing of Reiki—shares the cleansing and liberating qualities of KonMari, which Thorn has summarized by saying, "Clearing out mentally, clearing your house out physically, the result is the same—a lightness, clarity, honoring yourself, loving yourself and being more peaceful."
Most recently, she has unified her multiple pursuits —at least informally— under one name, The Tidy Lifestyle Doctor, to offer a better sense of the full scope of her services in guiding clients in their lifestyle enhancement journey. It's a process she has also explored in a blog post entitled "The Deeper Lifestyle Cleanse Behind KonMari Decluttering."
In both of her professional pursuits—with patients and with KonMari clients—Thorn engages in deep, compassionate listening and responds with strategies and services that provide a sense of "healing" for the body, mind, and soul.
Those seeking professional help in the decluttering journey can work with Thorn virtually or in-person. Details and pricing are available on the Sage of Interiors the Packages & Rates page. Anyone with questions may email her  [email protected], or call (203) 772-8883.
Those seeking information connected specifically to Thorn's healthcare practice may call 203-910-6185.
You can also find Christine Thorn on Facebook and on Instagram as the Sage of Interiors, as well as her Dr. Christine Thorn page on Facebook.