Google the term "pandemic silver lining" and results pop up from all walks of life—except the potentially most important silver lining for the greatest number of people.
This silver lining opportunity, created by how most of us adjusted our lifestyles during the height of COVID-19, demands some thought and some work, similar to the way comprehensively decluttering your living spaces and lifestyle with Marie Kondo's KonMari Method requires commitment, effort, energy, and time.
The opportunity of the moment involves cleansing how you live day-to-day—what you do, how you do it, with whom, etc.—modeled upon the category-by-category decluttering of KonMari.
This time, however, the question of whether something sparks joy and deserves to stay is applied not to clothing, books, sentimental items and other things that overwhelm our living spaces with stress-inducing clutter.
Clearing away all of things clogging our living environments frees us to improve our lives and lifestyles, but this time we're applying the principles of KonMari directly to the actions and interactions that form the foundation of those lifestyles.
It's a pandemic silver lining that makes this opportunity more obvious and easier than it has been previously.
The opportunity began to take shape without most of us realizing it, as the wisdom of social distancing and stay-at-home recommendations had us spending far more time than usual in our domestic spaces. That led to KonMari-inspired efforts to both tidy up and spruce the place up to improve the surroundings and the mood.
But the lifestyle impact of COVID-19 went far beyond that. The stay-at-home advice and social distancing mandates meant cutting out discretionary frills like two stops a day at Starbucks, while requiring a more strategic approach to necessities like groceries, say a weekly curbside pickup vs. popping into a store on the way home for a few items each time.
To some, the restrictions we weathered felt limiting, but to others they felt liberating. Whatever your perspective, there's a middle ground that all of us should be striving to achieve. It's that place of equilibrium where the things we do each day (routines, rituals, errands, chores, activities, and adventures) are limited to what we find not only necessary but also useful, positive and satisfying, especially when judged through an equation balancing the positives against time, energy, money, and frustration expended.
Take Starbucks as an example. As the ubiquitous and popular coffee shops have reopened to sit-down customers, many devotees prefer to continue using the drive-thru window, a system that was overburdened even before the pandemic. Now in many places the line of cars often spills out into the street, which means wait times that surely violate the tolerance thresholds most customers in the line.
And yet there they are—all day every day. Those who persist in making visits that are equivalent to highway traffic jams may have decided the lifestyle reward of the Starbucks ritual is worth the price, not just in money but also time, energy, and aggravation.
By contrast, someone familiar with the lifestyle benefits of the KonMari Method of comprehensive tidying and decluttering would likely make a different judgment and find an alternative that sparks joy without the clutter of the drive-thru line. That could be making Starbucks coffee at home and filling a thermos for the afternoon ride, or discovering a non-chain local coffee shop that's not so crowded like my new favorite spot, the Lions Den in Plantsville, CT.
Here's another example: During the worst of the pandemic we took advantage of curbside pickup at everywhere from wine shops to grocery stores and Target. As we limited interactions, and because we perceived curbside to be more involved than simply walking into a supermarket, it felt right to think harder about what you really needed for a whole week, place bigger orders, and they enjoy both the bounty simply being placed in the back of your vehicle and the new freedom of days and evenings not interrupted by a need to go out and get something.
In Connecticut, when vaccination rates rose, mask mandates were lifted, and we went back to workplaces more regularly, many of us reverted to pre-pandemic systems of stopping in a store for essentials or other items several days a week, perhaps even every day.
Having been cooped up for so long, it was in part an effort to feel normal again, and that's understandable. Psychologically, we all need the freedom to go out and circulate, and stopping for a bottle of wine in a wine shop, and then cheese and crackers at the gourmet market, could feel like a declaration of survival and cashing in on the rewards. That makes sense.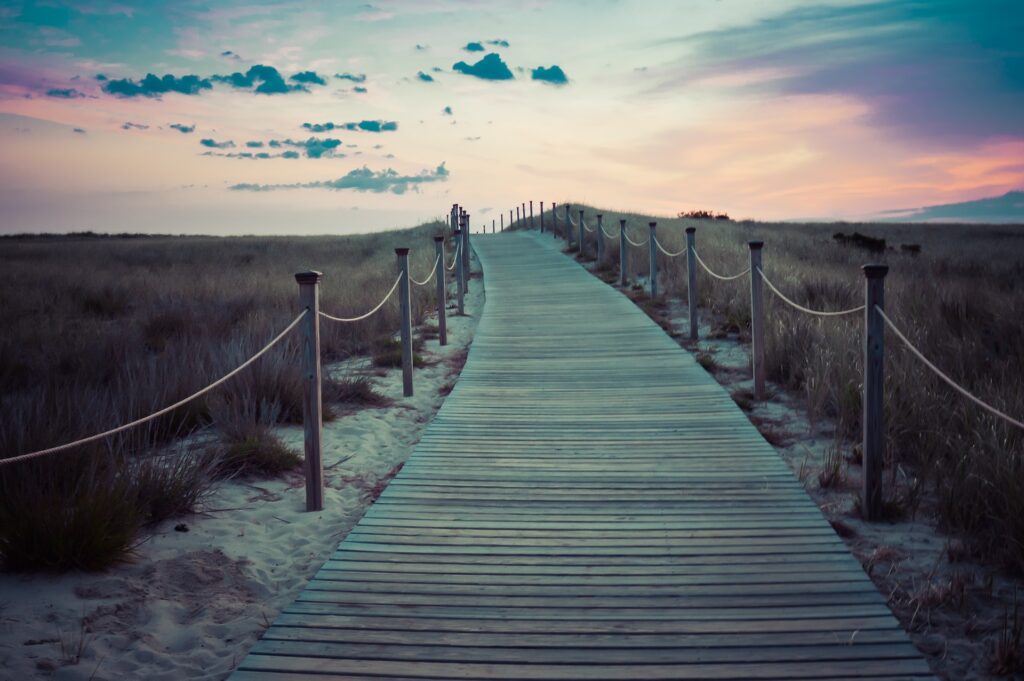 However, the way in which we experienced the broader impact of the pandemic on our lifestyles—less stops and shopping, fewer interactions, more walks in the woods, more quality time at home with food, family, books, and movies—presents that silver lining opportunity for a more fundamental and more lasting realignment.
We are all positioned at this moment to naturally reassess the things we do each day—the chores, errands, groceries, shopping, and even the Starbucks drive-thru line—as well as the people we see, and the other things to which we devote time and energy.
The pandemic set the stage for this natural reckoning, and it opened our eyes to how we had been living—likely a too-hectic pace with too many unfulfilling experiences—and how we were "forced" to live under COVID. When you consider the contrast, the proverbial lightbulb goes off in your mind with thoughts like: "Stop & Shop and Target had online ordering and curbside pickup long before the pandemic. It was great to get everything I needed once a week without wasting time hunting down items in the store. … I can just keep doing that and devote the hours I save every week to coffee with a friend and a long walk in the woods."
With a bit of reflection, most of us know instinctively which elements of our daily lifestyles truly spark joy, and which are non-joy experiences that we can simply shed in order to find enrichment, reduce stress, and set the stage for new possibilities.
~

As the Sage of Interiors and a Certified Gold KonMari Consultant I help people improve their lives and lifestyles through the power of KonMari tidying and decluttering, and as The Tidy Lifestyle Doctor, I guide larger lifestyle transformations by also summoning my 30 years of experience as a Chiropractor, Reflexologist, Reiki Master Practitioner, and Acupuncturist.
Email me at  [email protected] or call (203) 772-8883 to learn more, or see my Packages & Rates page, as well as reading the reviews of clients.